Titian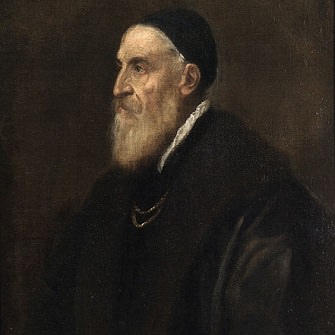 Titian is a name that doesn't come to mind as quickly as some of the other giants of the Renaissance. However, this brilliant Italian painter is certainly deserving of a spot alongside greats like Michelangelo and Leonardo da Vinci. Titian was born under the name Tiziano Vecelli in the Republic of Venice at some point between 1488 and 1490. He was sent to the city of Venice to find an apprenticeship with a painter at the age of 12. He worked under both Gentile Bellini and Giovanni Bellini at the start of his career. He also found fellowship with young painters like Lorenzo Lotto and Sebastiano Luciani during this period of his life. Students of art cannot help but to be mesmerized by the extensive array of pigments Titian used in his works. He left the world with a bounty of pieces to marvel at. Scholars have concluded that 300 of the 400 works completed by Titian still survive today. His works belong to both famous galleries and private collections.
The Works of Titian
Titian's versatile abilities allowed him to go back and forth between creating portraits and landscapes with ease. He also moved between religious subjects and mythological figures quite effortlessly. He is best known for his preoccupation with color. His early works are full of luminous tints and vibrant hues that helped him to make a name in the art world. However, his admirers can see a large shift towards subdued tones and loose brushwork in his later pieces. His later works demonstrate techniques that set a path for the future of Western art. Two of Titian's earliest works are "Gypsy Madonna" and "The Visitation of Mary and Elizabeth." The works from his early years demonstrate his unique talent in the fresco medium. The period between 1516 and 1530 marked an era of extreme artistic growth for Titian. He began to take on a more intense style in works like "Assumption of the Virgin" and "The Death of St. Peter Martyr." This was also a time during which he composed half-length figures and busts of young women. Some of his most famous depictions are "Flora" and "Woman With a Mirror." Titian's growth as an artist would only continue to reach new heights as he got further into his craft. Works like "Danaë" and "Bacchus and Ariadne" show his ability to bring a human dimension to mythological scenes.
The Final Years of Titian
Titian fathered two sons with his wife Cecilia before her death in 1530. He then had a daughter during his marriage to his second wife. Titian spent the period from 1550 to 1576 working as a portrait artist for Philip II. It was during this period that he became something of a self-critical perfectionist. He was even known to keep certain pieces in his studio for more than a decade as he retouched them. Many scholars note that Titian was able to convey the deepest emotions in the paintings he completed towards the end of his life. "Madonna and Child with Saints Luke and Catherine of Alexandria" is a perfect example of the deep emotion that he was able to bring to life on canvas. The artist is believed to have been sickened when the plague hit Venice. He died of a fever in August of 1576. Most historians believe that he was between the age of 90 and 100 when he passed away. He was interred near "The Pesaro Madonna" inside the Basilica di Santa Maria Gloriosa dei Frari.
Masterpieces of Renaissance Art