Raphael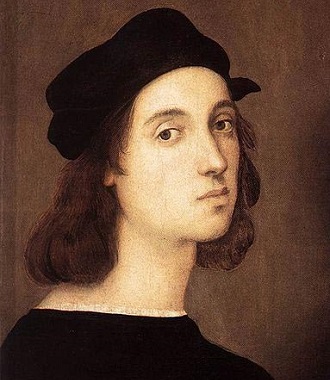 The intense images created by Raphael during the Renaissance capture the spirit of the era. Raphael is best known for being the great rival of Michelangelo. Many scholars see Raphael as the only artist that truly rose to the challenge of matching the brilliance and talent of Michelangelo. Raphael's works were greatly overshadowed by the fame of his rival for several centuries. However, Raphael's works came to be fully appreciated for their serene and harmonious qualities by the time the 19th century arrived. He is now celebrated as one of the most magnificent artists of all time. His methods brought the spirit of the Renaissance to life on canvas in ways that scholars and art lovers are still uncovering today.
The Making of an Artistic Master
Raphael spent 37 years creating an artistic legacy that would last until the end of time. The artist was given the name Raffaello Sanzio da Urbino when he was born in the Italian city of Urbino in 1483. His father was employed as a court painter. Young Raphael showed signs of talent from an early age. Some reports claim that he began his first apprenticeship when was just eight years old. While this was extremely young for an apprenticeship, his father's standing as a respected artist may have helped the process along. Raphael's mother passed away during this period of his life. The passing of his father a few years later made him an orphan by the time he was eleven. His uncle Bartolomeo, a priest, became his formal guardian. Raphael's career as an artist really picked up steam from this point on. His first known work was an altarpiece for the Church of Saint Nicholas of Tolentino in Città di Castello. He then went on to create "Mond Crucifixion" in 1503 and "Wedding of the Virgin" in 1504. This early period of his career is also marked by his talent for creating cabinet paintings like "Three Graces" and "St. Michael." Raphael traveled to Florence and Sienna during this stage in his career. He was known for living a nomadic lifestyle that included stints in cities all over Italy. The beauty of Raphael's work is that he was able to express all the elements of Florentine art that were so popular at the time without abandoning his personal style. His depiction of the human form evolved throughout his career to portray more dynamic and complex positions on canvas as time when on. However, the serene and gentle facial expressions that he began depicting at the start of his career always remained as part of his signature style.
The Roman Years
Raphael moved to Rome in 1508. He did so under the invitation of Pope Julius II. He was commissioned upon his arrival to create a fresco for the Pope's private library at the Palace of the Vatican. The finished product he created was so impressive that he was asked to replace artists like Perugino and Signorelli as they worked on additional rooms in the palace. The similarities between Michelangelo's work on the Sistine Chapel and Raphael's painted rooms inside the Palace of the Vatican cannot be ignored. Raphael was clearly quite influenced by the rich and ethereal themes that his rival created. In fact, the similarities were so strong that Michelangelo publicly accused the artist of plagiarism years after his death.
Raphael's Last Years
Vatican projects took up most of Raphael's life. He did also dabble in architecture, drawing and engravings. The artist lived for many years in a grand palace called Palazzo Caprini in the Borgo. While he did have a brief engagement to Maria Bibbiena, the two never married. A woman named Margherita Luti was also believed to be a long-term love interest. Raphael passed away in 1520 at the age of 37 following a short illness. A grand funeral and burial in the Pantheon followed his death.
Masterpieces of Renaissance Art