Michelangelo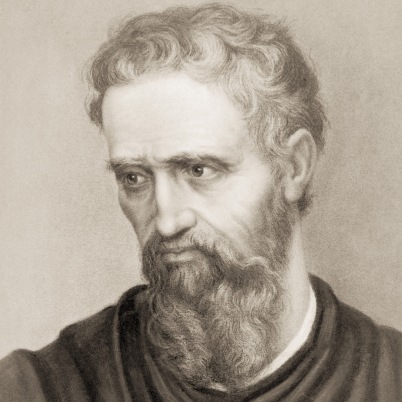 Michelangelo's creativity and boldness embody the essence of the High Renaissance. Michelangelo was more than an artist. He transcended genres to become a renowned painter, poet, sculptor, architect and engineer. He was considered to be one of the most accomplished men of his day. Of course, he endures as a household name with a legacy that is still discussed in classrooms, museums and coffee houses across the world today. Michelangelo's ability to portray the human body in all of its strength and frailty is something that sets him apart as an artist. He was able to skillfully use his hands to combine the ethereal and the real with flawless execution in both his paintings and his sculptures. His works morph back and forth with chameleon-like skill between depictions of celestial sweetness and pure human rawness. It is as though he reaches through time and space hundreds of years later to extract the deepest of emotions from all who set their eyes on his works. It is impossible to discuss the Renaissance without devoting a serious amount of time to the rich works and cutting-edge techniques of Michelangelo.
A Look at the Life and Works of Michelangelo
Michelangelo was born in Tuscany in 1475. He developed his love for marble work while playing in the marble quarry that his father owned. The artist was also shaped by the loss of his mother when he was just six years old. He was sent to Florence during his youth to study grammar under Francesco da Urbino. It became apparent quite early on that young Michelangelo preferred to spend his time in the company of other painters. He also spent much of his time copying paintings that hung in nearby churches. It was an amazing time to be in Florence because it was the center of the arts and learning in Italy at the time. Michelangelo became an apprentice to Ghirlandaio in 1488. He then went on to attend an academy that was sponsored by the Medici from 1490 to 1492. It was during this period that he sculpted "Madonna of the Steps" and "Battle of the Centaurs." Michelangelo then returned to his father's home. He spent time experimenting with wood and marble sculptures. He also was given permission to do some anatomical studies of corpses at a local hospital. This would contribute to the realistic works he would complete in the years to come. He soon returned to Florence and completed a number of statues while under employment of the Medici. Two notable works from this period in his life are "St. John the Baptist" and "Cupid." It was at the age of 21 that Michelangelo finally arrived in Rome to complete what would become some of his most famous works. The most iconic work to come from this period is the "Pietà" that stands inside St. Peter's Basilica today. Michelangelo returned to Florence to create "David" and "The Battle of Anghiara." Of course, the work that Michelangelo did on the ceiling of the Sistine Chapel between 1505 and 1512 signifies the defining chapter of his career.
The Death and Legacy of Michelangelo
Michelangelo lived to the age of 88. He died in Rome in 1564. While he was celebrated as a brilliant mind in his day, he shunned the spotlight in favor of a quiet and secluded lifestyle. In fact, he was so private that he rarely took on students or used assistants. He was a devout Catholic throughout his life. He also chose to live a relatively modest lifestyle in spite of the wealth that he accumulated through is commissioned works. The works that Michelangelo created during the Renaissance are as relevant and impressive today as they were when they were commissioned. Crowds still flock to churches and museums throughout Italy and the rest of the world to get a closer glimpse of his legendary pieces.
Masterpieces of Renaissance Art